Listen On-Line
Listen To The Show Online!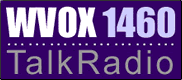 Not in the WVOX 1460 AM radio station listening area? Or not available to hear our show on Monday evenings? Now you can listen to the Z Travel and Leisure Hour radio show online!
Click on the links below to hear the broadcast of your choice:
Listen LIVE Online
The Z Travel and Leisure Hour is broadcast every Monday evening at 8PM Eastern Time n WVOX. Click on the link below to listen to our broadcast live, streamed directly from WVOX studios!

From Our Archives
Listen to full one-hour radio show broadcasts from our archives!
The Best of the Z Travel and Leisure Hour
Short clips of interviews with our best guests!
Online broadcasts are in Windows Media Player format. To download the free Windows Media Player, click here.