Harbor Cruise & neighborhood visit!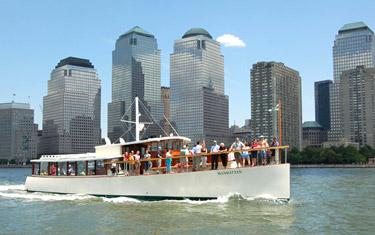 Highlights:
(3 hour boat cruise!)
Tours are "customized" and semi-private

Lunch break ( Not Included in Price) Many Options

Maximum 55 Guests & escorted bus travel

Guides are licensed NYC and radio talk show hosts

" Most unique tour in New York City"

Full Day adventure
The most incredible way to see NYC in luxury, and learn trivia, anecdotes, on this non-stop narrative cruise as you circumnavigate the island!
Places you'll pass & hear the secrets of….
Black Tom island terrorist explosion & Pres. Wilson

The face of "Lady Liberty"

The Brooklyn bridge death stampede

Insane Asylum Reporter

Ellis Island's secrets

The Little Red Lighthouse

In "Spite of the Devil"

Vice Pres. & Secretary of Treasury duel!

30 million in glass damage

Governor's Island & Walt Disney!

Washington's Escape

21 elephants & the Brooklyn Bridge panic

Ivy League boat racing

Bette Midler's park

The Mayor & his "non" residence

"Dumbo" history

Hugh Jackman , Calvin Klein, Nicole Kidman residences

Cliff hangers & Silent movies

Wild parrots of NJ

The UN Elephant embarrassment

And much more……
For more details call 914 224-7134 or email [email protected]