"Food Tour #2"
Travel through NYC by Bus or Van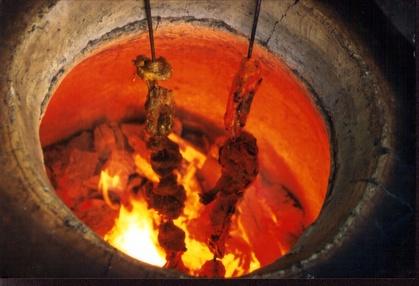 Multi-ethnic food sampling stops ( Off The Bus & on !)

Full narrative of the City as we travel from noshing to noshing locations
(Nosh = "Eating in NY English")
Numerous samplings along the way "in the bus"

Video tapes in short segments and numerous pictures and multi media illustrations. ( We do more than "just" put in a video tape)
The tours contain optional bus transportation and multi-stops in New York City. See the itinerary for more details. Please note that we are flexible with our options.
Itinerary:
Stop #1: Soul Food in Harlem
Drive # 1½ Snack
Stop #2: Upper 5th Ave., Manhattan – Latino sampling
Stop #3: Curry Road Indian , Manhattan – Walk and view Tandori Ovens and Spice markets
Stop # 4 Oy Vey ! Pastrami or Corned-beef samplings & the BEST sour pickles
Stop #4 Greek sampling feast
Stop #5: Dessert stop
** Noshes Served on the Bus –and some surprising stops if time permits.
*** We estimate the tour/noshing from 10 AM till 5:00 PM minimum
Tour Destinations:
Drive through locations including sites and narrative history:
Harlem

Fifth Avenue

Tribeca

East Village

Lower East Side

"Curry Road"
Also note: "We are not responsible for any weight gained on the experience"
JUST KIDDING ! Alka Seltzer provided! Naps available!!
NOTE: Subject to restaurants being open & Availability (Always optional noshes!)
Double note: As historians we pride ourselves on being Informative & Entertaining. Each tour will be non stop info about the history and anecdotes about people and places that make the neighborhoods alive !!!